My newest design
D'oiro
has been published. Oiro/ouro is the Portuguese word for gold and Doiro/Douro or Dourado has a double meaning it might be golden and/or something really special and so it is. At least for me:-)
I''ll spare you the details about the time needed to transfer my ideas to something palpable as a knitted garment. I had some experimentations regarding its shape, this time I went for a semi-circular shawl but not a half-circular, instead it has an interesting crescent shape. It looks lighter and more romantic to me, don't know exactly why but that's how I feel. Once again I mixed lace and slip stitches ending with not only a very warm shawl but also with an interesting texture. I used one of my favorite yarns Manos silk, which is very soft and a joy to knit with.
D'oiro it's also knitted top-down. The main section is worked with two colors in a half linen stitch alternated with eyelets providing a lovely textured appearance. A neat chain /braid makes the transition to the lace section ending with a lovely picot bind-off.
Shown in size M (blue and golden brown) - Manos del Uruguay Silk Blend (DK weight yarn) approx 433 meters total - 260.6 meters (285.0 yards) in 2458 Indian Colorway (CC) / 172.8 meters (189.0 yards) in Topaz Colorway (MC). For size L see more details
here
, Michelle knitted a dramatic and gorgeous D'oiro (blackberry and sage) approx 545.9 m total - Malabrigo Yarn Silky Merino approx 395 m and Debbie Bliss Andes approx 150m. Note that yardage will vary depending of personal taste (choice for last rows and binding-off with MC or CC color), yarn used and gauge.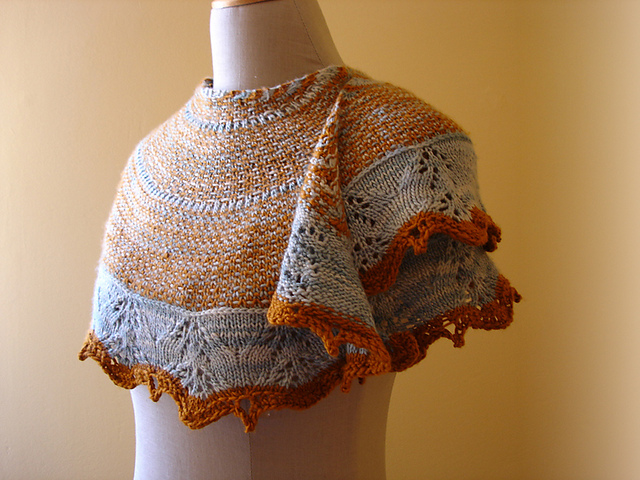 More info:
Level:
Intermediate
Skills needed:
K, P, Ssk, K2tog, YO, provisional cast-on, color work (slip sts), drop sts, M3, twisted stitches, Ktbl, M1, M3, Picot bind-off. Wet block the shawl and woven in ends.
Pattern format:
Both written instructions (line by line) and charts are provided and tables with stitch count per repeat/section for both sizes. Available in two sizes M and L.
Pattern is a pdf file document and you need Adobe Acrobat Reader application to open it.